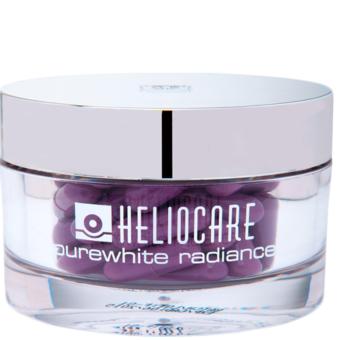 Latest Price: PHP6,000.00
Brands: HELIOCARE
Category: Health & Beauty > Skin Care > Dermacare
---
Product details of Heliocare Purewhite Radiance
Through the combination of the exclusive technology FERNBLOCK + WHITE TECH COMPLEX, not only are we able to attain the fairness you desire, there are also additional anti-aging and photoprotection benefits that will aid in achieving a firmer, plumber and younger looking skin.
Heliocare Purewhite Radiance demonstrates improvement in skin moisturization, skin brightness, skin elasticity and reduces water loss through our skin. These parameters are associated with decrease of skin blotches (whitening effect) and wrinkles (anti-aging effect).
The study was clinically evaluated by dermatologists, confirming the visible effects of the product on skin blotches and wrinkles. Heliocare Purewhite Radiance is a safe and effective treatment that combines different technologies with strong scientific support.
Punica Granatum (Ellagic Acid) Clinically proven as a safe and effective skin whitening agent
Inhibits the activity of tyrosinase (the main enzyme of melanin production), which then prevents the formation of dark pigments
Strong antioxidant properties that neutralize free radicals caused by environmental aggressors and also help in enhancing skin whitening
L-Cystine A whitening agent which intercepts the formation of melanin, reducing the production of dark pigments, enhancing skin whitening
Precursor of Glutathione, a potent antioxidant which plays an important role in the regulation of melanin production in our body
After the formation of Glutathione, it directly aids in the inhibition of tyrosinase synthesis and activity. This directly reduces production of dark pigments - the cause of hyperpigmentation and skin darkening
Vitamin C (L-Ascorbic Acid) A potent and effective antioxidant that interferes with melanin synthesis, this decreases the melanin concentration in the skin, leading to a whiter looking skin
Neutralizes free radicals from environmental aggressors and prevents collagen damage
Vitamin B3 (Nicotinamide) Inhibits transfer of melanin to epidermal cells (skin surface)
A study showed that Vitamin B3 has the ability to reduce hyperpigmentation and increase skin lightness compared with vehicle alone after 4 weeks of use
Shown to decrease collagen oxidation and improve aging-induced yellowing of skin
Fernblock is the first oral agent that has shown abilities to quench free radicals and decrease the development of hyperpigmentation.
100% Herbal, Extract of Polypodium leucotomos
Increases skin's resistance against sunburn by 300%
Decreases pigmentary response in our skin
Prevents and repair DNA damage induced by harmful UV rays
Excellent antioxidant property, reduces free radicals by up to 50%, preventing formation of hyperpigmentation caused by UV rays
Inhibits MMP-1 that is responsible for the degradation of collagen, providing anti-aging benefits
Protects the fibroblast in our skin and enhance the stimulation of collagen and elastin, resulting in a firmer and plumber skin
A study has shown that reduction in melanin intensity was 68% greater in users consuming Fernblock + topical sunscreen as compared to Placebo + topical sunscreen. This demonstrates the efficacy of Fernblock and its ability to skin whitening.
---
Product Comparison Heliocare Purewhite Radiance Models and Prices